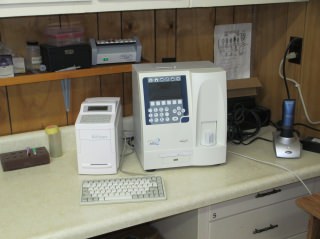 Laboratory diagnostics via blood and/or urine testing are important in assessing the overall functionality of your pet's internal organs and body systems.  We are equipped with an in-house CBC (complete blood count) and chemistry machine to facilitate a quick and easy assessment of your pet.  Results are read by a veterinarian within 15 minutes.  We also offer urinalysis as an additional diagnostic tool.  In addition, we are equipped with a microscope in order to evaluate cells and other samples from your pet.

Dr. Stroupe loves looking at bugs and cells under the microscope!
Radiology
Radiology is another tool that we can utilize for the diagnosis and treatment of your pet.  It can be used to image all parts of the body, including the abdomen, chest, spine, and limbs.  Radiographs are created when x-rays are transmitted through the patient onto film to create an image.  Once the film is developed, the radiograph is read carefully by a veterinarian.